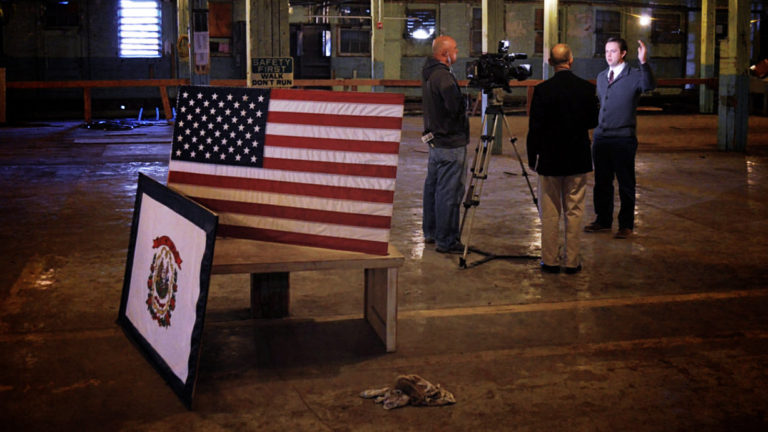 WV Living's inaugural West Virginian of the Year
When Brandon Dennison's car pulls up to the old Corbin Ltd. factory on Huntington's West End, he finds a crew of employees on a scissor lift installing a sign above a basement door. The sign, which reads "Business Development Center," should have been installed the day before. Reporters and city leaders will arrive in just over an hour for a ribbon cutting ceremony. But it's not a big deal. Dennison's company, Coalfield Development Corporation, is a flexible organism. If something needs to be done, they just do it.
After a quick chat with the sign crew, Dennison makes a check of the business center. Crew members—that's what Coalfield calls its employees—have moved some old church pews into the space for the press conference. Check. There's a simple lectern up front with a vinyl banner against the wall. Looks good. To the side, a folding table with cardboard jugs of coffee and sheetcake for attendees. Chocolate and white cake. Check.
Pleased with the setup, Dennison continues his walkabout. He pokes his head in the bathroom around the corner. It still needs to be cleaned before the press conference. He asks Ryan Stoner, Coalfield's director of personal development, to handle it. "There's some gloves upstairs," he tells Stoner. "You'll want some gloves." Dennison is already headed up the stairs. One gets the sense he would have cleaned the bathroom himself, if he were not being followed by a reporter.
Passing through the factory's second floor, Dennison points out future uses for different sections of the building. See the hole where the hardwood floor was removed? That was torn up as part of Coalfield's Reclaim Appalachia enterprise, which sells salvaged construction materials to interior designers seeking a rustic look—now Coalfield will use that expanded headroom to put a black box theater on the ground floor.
Feet away from the gaping hole, the company is planning an "artisan village" where glassblowers, metalworkers, and the like will set up cubicles to make and sell their wares. Hang a right and you'll find a space that will be rented out for art exhibitions, conferences, wedding receptions, and any other event that needs a huge open area.
Dennison crosses the concrete floor toward the back of the building, home of Saw's Edge Woodshop, part of his company's Rediscover Appalachia enterprise. The sawdusted space is usually filled with the whine of power tools, but crew members are on break so the shop is deserted and quiet. He pauses to appreciate a wall hanging of intricately cut wood and glass. It's a new design by one of the crew members that, like many of the pieces produced here, features the outline of West Virginia.
Out the back door of the shop, Dennison finds Christopher Scarberry and another crew member working to fix the wood shop's exhaust fan. Scarberry climbs off his ladder to tell the boss about the house he just purchased. They commiserate for a moment on the joys of mortgage payments before Scarberry goes back to work and Dennison continues his rounds. "This is the first place I've ever worked where the higher-up people actually care how you're doing," Scarberry says later.
Dennison points out the practice roof where crew members with Coalfield's Rewire Appalachia enterprise learn to install solar panels. Nearby, there is a high tunnel where crew members with the Refresh Appalachia enterprise grow vegetables that are sold through farmers' markets, food distributors, and a consumer-supported agriculture program. Back inside the factory and through a couple doors, Dennison steps into a humid room filled with grow lights and aquaponic tubs. This is where Refresh Appalachia grows the microgreens it sells to chefs around Huntington. The West Edge location is just one of the enterprise's eight agricultural facilities, which are spread throughout Cabell, Lincoln, Mingo, and Wayne counties. Some are located on former strip mine sites.
It is now almost time for the ribbon cutting. Dennison heads back downstairs for a few final preparations. The press conference will feature Huntington Mayor Steve Williams and Jason Moses of the Moses Auto Group, which donated $20,000 to open the business center. But Dennison will speak first.
After welcoming attendees, he offers a quick recap of the factory's recent history. He recalls for everyone how, after Corbin left town, the 93,000-square-foot warehouse became a haven for drug addicts, homeless people, scrap metal scavengers, and rabid dogs. The building that once held the community together began to tear it apart.
Coalfield purchased the building in 2014—for $1 per square foot, if that tells you anything—and began moving its various enterprises into the space. After just one year, police calls to the neighborhood dropped by 42 percent. Banks estimated property values rose by 12 percent.
Dennison told how the business center where attendees were now sitting was once filled with derelict offices and mounds of dirt. "Our crew members would not work down here alone," he says. "There was a de facto buddy system, it was so creepy." Now, the space had two clients ready to move their own businesses into the remodeled space.
He ends his comments with a few thoughts about what it takes to start a business. "Entrepreneurs are unique individuals in the head," he says. "Instead of saying 'I have a goal' and making a list of all the things they need to make it happen, the entrepreneur says 'I have a goal. What do I have right now to realize those goals?'"
Dennison was referring to the business center's tenants. But, whether he realized it or not, he was also describing the philosophy that drives the Coalfield Development Corporation.
Since its inception just over six years ago, Dennison's company has been taking things readily available in Appalachia—like old strip mines, abandoned factories, and out-of-work people—and using them toward a common goal: creating a new economy for West Virginia.