CREW MEMBER
SustainU® Clothing (Clothing Manufacturing)
JOB POSTING for position at COALFIELD DEVELOPMENT, a 501(c)3 nonprofit organization.
How to Apply
Email your resume and cover letter to: jobs@coalfield-development.org
Top applicants will be invited to complete an application and provide three professional references.
Applicants will be selected for an interview, with a final decision made as soon as possible after this step is complete.
Position Summary
Our initiative aims to transform the lives of people in the region and those displaced by the coal mining industry. Crew members participate in a workforce development program according to our 33-6-3 model: 33 hours a week are spent doing on-the-job training, along with participation in workshops and trainings; 6 hours a week are devoted to community college and business classes for an Associate's Degree in Applied Sciences; and 3 hours a week are committed to personal development coaching.  SustainU® Clothing strives to blend the efficiency and production of the for-profit sector with the compassion and purpose of the charitable sector.
If you are looking for a job where you can experience personal growth while also improving your community, we hope you will consider applying.  
Dislocated coal miners and family members of those impacted by lay-offs are especially encouraged to apply.
REQUIRED QUALIFICATIONS
High school diploma or GED
Committed to learning and personal growth
Access to reliable transportation (e.g., personal vehicle or public transport)
BENEFITS
Professional and personal development opportunities
Educational opportunities
$11-$13 per hour
WHO WE ARE
Our Mission
To support a family of social enterprises that inspire the courage to grow, the creativity to transform perceived liabilities into assets, and the community needed to cultivate real opportunity in Appalachia through mentorship, education, and employment.
Our Vision
Appalachian places and people unlocking their full potential, power, and purpose. Together, we are rebuilding the Appalachian economy from the ground up!
Our Core Values
Our Core Competencies
Revitalize Appalachia - Community Based Real Estate Development
We work with community groups, leaders, and partner organizations to develop mixed-use residential and commercial real estate projects with a social impact. Coalfield owns three rural multi-family housing properties and has an in-house construction crew.
33/6/3 - Personal and Professional Workforce Development
Formally unemployed people (especially laid-off coal miners) are hired on to work-crews that staff Coalfield's social enterprises. These work crews support a variety of community projects that create assets for local residents, communities, and businesses. Each week, Crew Members complete 33 hours of paid work, 6 credit hours of higher education, and 3 hours of personal development mentorship.
Strong Mountain Communities
Coalfield incubates and grows a family of social enterprises in sectors it believes have the potential to diversify the regional economy and create good jobs. The enterprises we support measure their value according to our triple-bottom-line: people, planet, and profit. Strong Mountain Communities also leads a business pitch contest and annual social enterprise conference to build a network of new and experienced entrepreneurs.
Our Theory of Change and Guiding Strategies
Opportunity, willpower, and spirit are necessary to ending generational poverty. Real opportunities and lasting change cannot be simply provided; they are patiently cultivated. To achieve this, we simultaneously create new markets and the trained workforce to employ those markets. The main hook of our job training programs is that the work is paid, putting real wages in pockets. We insist on higher education because we value life-long learning. Measured mentorship represents the professional learning environment where we provide accountability and personal growth opportunities. In this way, we learn new skills by doing them on-the-job, as real employees of real businesses. We are not preparing people for the real world; we do business in the real world.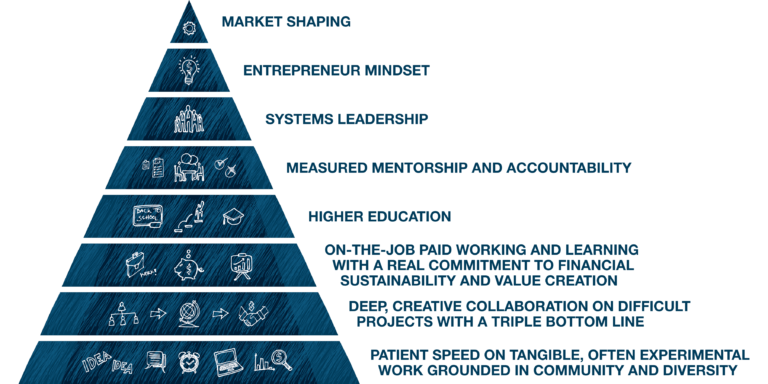 DISCLAIMER
Coalfield Development Corporation provides equal employment opportunities to all employees and applicants for employment and prohibits discrimination and harassment of any type without regard to race, color, religion, age, sex, national origin, disability status, genetics, protected veteran status, sexual orientation, gender identity or expression, or any other characteristic protected by federal, state or local laws. This policy applies to all terms and conditions of employment, including recruiting, hiring, placement, promotion, termination, layoff, recall, transfer, leaves of absence, compensation and training.
Candidates may be required to pass a background check and/or drug test as a condition of employment.
NOTE: while all applications are appreciated, only those candidates selected for an interview will be contacted.