ACCOUNTING MANAGER
Coalfield Development
JOB POSTING for position at COALFIELD DEVELOPMENT, a 501(c)3 nonprofit organization
| TITLE | TEAM | REVISED DATE |
| --- | --- | --- |
| Accounting Manager | Finance Team | February 26, 2019 |
| HOURLY/SALARY | COMPENSATION | REPORTS TO |
| Salary | $40,000/YR, Benefits Package, Paid Leave | Chief Financial Officer |
| DIRECT REPORTS | FLSA STATUS | STATUS |
| Bookkeeper & Staff Accountant | Exempt | Full-Time |
How to Apply
Email your resume and cover letter to: finance@coalfield-development.org
Top applicants will be invited to complete an application and provide three professional references.
2-3 applicants will be selected for an interview, with a final decision made as soon as possible after this step is complete.
Position Summary
The Accounting Manager is responsible for preparing a wide variety of financial statements, reports, and analyses for grantors, banks, auditors, and management. This position works with the organization's Board of Directors, Executive Team, Finance Team, senior staff, consultants, and auditors to ensure everyone has the best possible financial information to support Coalfield's mission.
Key Responsibilities
Ensure the organization is always audit ready
Administer the organization's accounting and document management systems to provide one source of the truth for financial information
Ensure an accurate and timely monthly financial close , recording adjusting journal entries for accruals, deferrals, depreciation, payroll, etc.
Closely supervise the finance team in inputting, coding, and reconciling source documents for accounts payable, accounts receivable, payroll, sales, fixed assets, purchasing, and all other financial activity
Detect, prevent, and correct errors, mistakes, omissions, and misstatements to ensure financial information is complete and accurate throughout the organization
Oversee and enforce internal controls and recommend improvements
Maintain and adjust depreciation and fixed asset schedules
Maintain and reconcile schedules of loans, amortization, and interest expense
Reconcile bank accounts, loans, purchase cards, employee benefits, and vendor charges to accounting system, underlying source documents, and statements
Identify and act on cost savings opportunities
Develop and maintain financial policies and procedures , accounting systems, and chart of accounts
Manage expense allocations to activities , projects, and funding sources
Support the preparation of budgets, cash flow forecasts , business and strategic plans, and other essential financial information
Develop and manage relationships with key vendors and community partners to build and maintain Coalfield's reputation for trust and integrity
Skills and Knowledge Required
Preparation of financial statements in accordance with U.S. Generally Accepted Accounting Principles
Financial administration of federal awards in accordance with 2 CFR 200 Uniform Administrative Requirements, Cost Principles, and Audit Requirements for Federal Awards
Advanced proficiency with QuickBooks and spreadsheet software (including formulas, cell referencing, pivot tables, graphs and charts, etc.)
Comfortable and experienced working in a technology-driven work environment : typing, internet research, online account and password management, learning new software and technologies, digital file and content management, computerized workflows and accounting processes
Excellent analytical, technical, communication, and interpersonal skills
Knowledge of accounting principles, best practices, and related software. Ability to read and interpret financial statements and prepare budgets and financial plans
Ability to speak effectively before groups
Analysis, presentation, and visualization of financial data and information
Exceptional attention to detail
Demonstrate a commitment to lifelong learning and personal growth as a financial leader
Must demonstrate entrepreneurial ability and willingness to build new systems from the ground up
Patient and compassionate with people and challenges encountered in challenging socio-economic environments
Education and Experience Requirements
BA/BS in accounting or finance
2+ years of accounting, finance, business management, or non-profit experience
CPA preferred
Experience working with small businesses and social enterprises preferred
Federal grants experience preferred
Supervision
The Accounting Manager reports to the Chief Financial Officer and supervises up to two bookkeepers.
Work Location, Normal Working Hours, and Physical Environment
Coalfield's offices are currently located in Wayne, Huntington, and Charleston, WV. The Finance Team works primarily in Wayne and will eventually move to Huntington.
Primarily office environment
Extensive computer operation with repeated finger motions
Filing and minimal lifting (5-15 lbs)
Must be able to move around the office and get to the equipment and filing cabinets
Must be able to work seated or standing at a desk and/or computer for extended periods of time
The normal work week is Monday - Friday, 8AM - 5PM. Coalfield allows managers and employees to negotiate a flexible work schedule. Uncompensated overtime is infrequently required when necessary to meet critical deadlines or respond to emergencies
Travel and Transportation Requirements
This is mainly an office job, but occasional travel between Charleston, Huntington, and Wayne, WV is required. Candidates must provide reliable transportation to their primary work location. Coalfield has a limited fleet of vehicles and frequently carpools to minimize travel burdens on employees. Travel expenses (excluding commutes) may be reimbursed per Coalfield's policies and procedures.
WHO WE ARE
Our Mission
To support a family of social enterprises that inspire the courage to grow, the creativity to transform perceived liabilities into assets, and the community needed to cultivate real opportunity in Appalachia through mentorship, education, and employment.
Our Vision
Appalachian places and people unlocking their full potential, power, and purpose.
Together, we are rebuilding the Appalachian economy from the ground up!
Our Core Values
All employees are expected to exemplify our core values:
Our Core Capabilities
Community-Based Real Estate
We work with community groups, leaders, and partner organizations to develop mixed-use residential and commercial real estate projects with a social impact. Coalfield owns three rural multi-family housing properties and has an in-house construction crew.
Personal and Academic Development
Formally unemployed people (especially laid-off coal miners) are hired on to work crews that staff Coalfield's social enterprises. These crews support a variety of community projects that create assets for local residents, communities, and businesses. Each week, Crew Members complete 33 hours of paid work, 6 credit hours of higher education, and 3 hours of personal development mentorship.
Develop and Incubate Social Enterprises
Coalfield incubates and grows a family of social enterprises in sectors it believes have the potential to diversify the regional economy and create good jobs. The enterprises we support measure their value according to our triple-bottom-line: people, planet, and profit. Coalfield also leads a business pitch contest and annual social enterprise conference to build a network of new and experienced entrepreneurs.
Our Family of Social Enterprises
Reclaim Appalachia converts mining-impacted lands in central Appalachia into sustainable economic development sites by tapping into the resiliency and work ethic of former coal miners and their communities.
Refresh Appalachia leads our region in sustainable agriculture initiatives by supporting farmers and producers to develop the local food economy. By providing training in farm and food entrepreneurship, Refresh Appalachia transforms the lives of young people and those displaced from the coal mining industry.
The West Edge Factory in Huntington, WV is a 96K sq. ft. building that had once employed over 1,000 people, but after closing, had sat in ruin for more than a decade. Coalfield has renovated the building over the years, developing it into a hub for its social enterprises, personal and academic development activities, and a creative space available to the community.
SustainU® is a licensee of Major League Baseball and manufactures sustainable apparel in Coalfield's West Edge Factory. Our clothing production process saves millions of gallons of water and petroleum every year while reinvesting in new technology and equipment to rebuild the Appalachian economy from the ground up. SustainU is an industry leader and pioneer through its direct-to-consumer sales approach, interactive technology platforms, wholesale licensed products, and custom printing services.
Saw's Edge Woodshop is a business and classroom where trainees learn fine woodworking techniques and visitors can learn alongside them.
Trout's Hill Coffee and Cafe is a community-supported coffee shop in Wayne, WV.
Our Theory of Change and Guiding Strategies
Opportunity, willpower, and spirit are necessary to ending generational poverty. Real opportunities and lasting change cannot be simply provided; they are patiently cultivated. To achieve this, we simultaneously create new markets and the trained workforce to employ those markets. The main hook of our job training programs is that the work is paid, putting real wages in pockets. We insist on higher education because we value life-long learning. Measured mentorship represents the professional learning environment where we provide accountability and personal growth opportunities. In this way, we learn new skills by doing them on-the-job, as real employees of real businesses. We are not preparing people for the real world; we do business in the real world.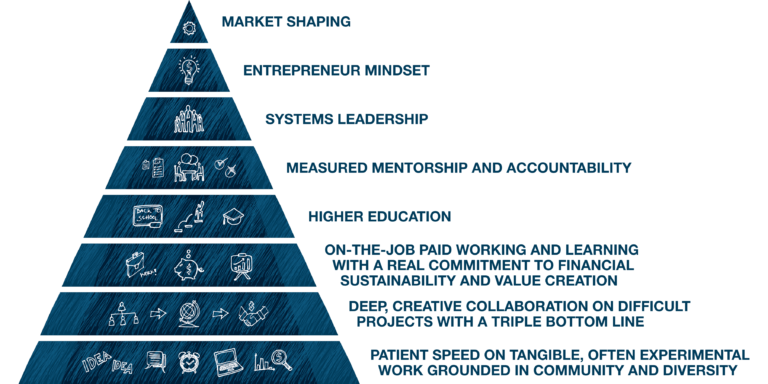 DISCLAIMER
Coalfield Development Corporation provides equal employment opportunities to all employees and applicants for employment and prohibits discrimination and harassment of any type without regard to race, color, religion, age, sex, national origin, disability status, genetics, protected veteran status, sexual orientation, gender identity or expression, or any other characteristic protected by federal, state or local laws. This policy applies to all terms and conditions of employment, including recruiting, hiring, placement, promotion, termination, layoff, recall, transfer, leaves of absence, compensation and training.
Candidates may be required to pass a background check and/or drug test as a condition of employment.
NOTE: while all applications are appreciated, only those candidates selected for an interview will be contacted.