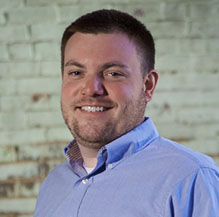 Meet Ryan Stoner
Hometown: Huntington, WV
Ryan Stoner was born and raised in Huntington, WV. As a young adult he had the opportunity to travel both regionally and internationally as a member of several short term construction based mission teams. Over the years he has found great purpose in serving as part of a team to create a positive impact on the lives of others.
Upon graduating Marshall University with a BA in Business Management and minoring in Entrepreneurial studies, Ryan and his father purchased a local construction supply business in Huntington. The experience was both challenging and rewarding as an immediate opportunity to become a small business owner in the local economy.
Prior to working at Coalfield, Ryan served on ministerial staff with his wife Rev. Jana Stoner at Fifth Avenue Baptist Church in Huntington. While serving together the two enjoyed partnering with families to organize group mission trips to countries as far away as Nicaragua. Each third world experience provided him with a glimpse of poverty, which was difficult to escape after engaging with people in his own community experiencing the struggle of poverty in WV.
Serving as the Chief Operating Officer, Ryan is excited to help Coalfield Crew Members grow personally by supporting their effort to improve the quality of their lives through the pursuit of education and employment.
Ryan is grateful for almost 10 years of marriage to Jana and 8 years of parenting their three children: Kathleen (8), Carolyn (6), and Topher (3). Together their family enjoys hiking, finding waterfalls, and always taking time for more fro-yo.
Fun Facts: My first ever full-time job was as the co-owner of a small business.
Favorite Movie/Book Quote: "Walk with the wise and become wise, for a companion of fools suffers harm." Proverbs 13:20
Personal Motto: Context is everything and details are critical.
Most Interesting Place Ever Visited: Lake Nicaragua in Granada, Nicaragua, where my oldest daughter reminded me to keep my hands in our boat and out of the water, for fear of being bitten by a freshwater shark.
Contact Ryan: rstoner@coalfield-development.org