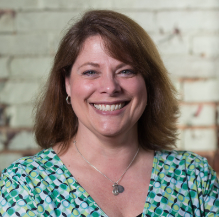 Meet Marilyn Wrenn
Hometown: Charleston, WV
Marilyn Wrenn is Coalfield Development's Chief Development Officer.  Marilyn has worked in rural community and economic development for nearly 30 years with a specific focus on community engagement, wealth creation, social enterprise development and place-based strategies focused in and on Appalachia.  Before joining Coalfield Development, Marilyn spent 15 years as the Operations and Development Director for the Center for Economic Options, and also worked for the West Virginia Development Office, Mountain Association for Community and Economic Development (MACED), and the Kentucky Resources Council. She has a Master's degree in Communications with emphasis on Environmental Systems, and a Bachelor of Science degree in Communications from the University of Kentucky. Marilyn enjoys time with her family, working on an endless variety of home improvement projects, playing flute, growing herbs and flowers, and ornithology.
Fun Facts: Can name all 17 species of penguins.
Favorite Book Quote: "Argue for your limitations, and sure enough, they're yours." Richard Bach
Personal Motto: Situation and terrain dictates.
Favorite Saying: Just keep your wits about you.
Personal Hero: My mother (and all the strong West Virginia women who came before her)
Most Interesting Place Ever Visited: The Cornish coast.
Contact Marilyn: mwrenn@coalfield-development.org