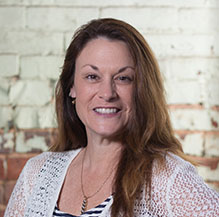 Meet Claudette "Claud" Karr
Hometown: Fairmont, WV
Claudette Karr was born and raised in the Fairmont, WV area. She attended West Virginia University and Stanley Technical Institute. Claudette holds professional certifications from Quadel and Spectrum Enterprises.
Claudette spent twenty years working for a West Virginia, non-profit multi-family housing provider. She enjoyed every facet of management and supervising along with educating new managers, maintenance and clerical personnel. Claudette volunteered for two years as the Hearing Officer for the City of Fairmont Housing Authority. As a former Compliance Manager and Regional Housing Manager, Claudette joined the Coalfield team as the Real Estate Coordinator and is now mentoring, managing and developing Coalfield's multi-family properties.
Claudette lives with her husband in Tornado, WV. In her spare time, she enjoys boating, painting, and being mom to David, Amber, Richie and Ian. Claud is also nana to Tiegan and Mikey.
Fun Facts: Claud was the Field Commander in addition to playing the clarinet, oboe and bassoon in her high school marching band.
Favorite Movie/Book Quote: "Frankly my dear, I don't give a damn." Rhett Butler (Gone With the Wind)
Personal Motto: "And in the end, it is not the years in your life that count, it is the life in your years." Abraham Lincoln
Favorite Saying: Live well, Laugh often and Love much
Personal Hero: My mom, Peggy Ann Toothman. She taught me to be humble and kind. Even though she has told me at times that I am too kind! Love you Ma.
Most Interesting Place Ever Visited: Tombstone, Arizona (1982): On a family vacation, we "misplaced" my 11-year-old brother for an entire day. We found him that evening sitting at the local bar drinking sarsaparilla.
Contact Claudette: ckarr@coalfield-development.org